On the sixth of September 2011, Alan Azar will be releasing his second album entitled 'The Cosmologist' at Nova Pub in Sin El Fil. As the title suggests, the album will take you for a journey in space and break the chains that hold your imagination. This album is carefully planned and executed compared to the first album "Defective Harmony" which was a collection of tracks with no binding theme, only a common yet talented musician doing his thing.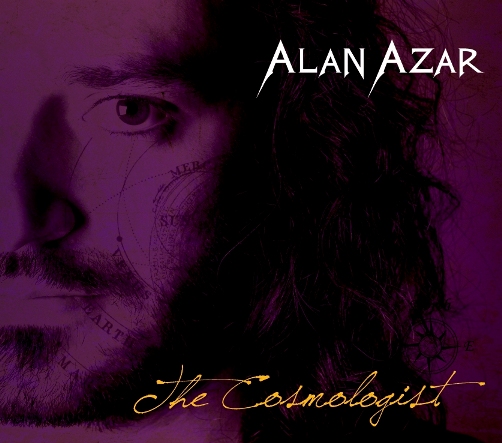 The Cosmologist is an album of ten tracks blending Rock and Metal perfectly. Its tracks focus on melody and soft lines expressing feelings while others focus on complex progressive beats and technical playing.
The following is a track by track review briefly describing each track to guide you through the notes and beats. Once you have the album, this review might be useful as a tour guide inside "The Cosmologist" space.
It is the launching phase, now you leave earth and soon you will be in space. The music reflects the excitement with great guitar riffs and keyboard effects that best represent the transition. Now you are in the shuttle and your heart is pumping fast. This track falls into the Hard Rock genre, were vocals lines are replaced by squealing guitar melodies. From the first track, the arrangement is tight, giving you the freedom to interpret guitar lines as scenes.
For this track, I will go geek on you and tell you what "Red Shift" means, Red shift is actually the light arriving from an object moving away fast (or moving closer), its real color changes. Here "Red shifted Area" means now you are in space and you're moving fast!
You can sense the shift in the first keyboard notes; drum lines are just so soft you can feel the gravity loosing hold of you. The influence of Joe Satriani on Alan Azar is so obvious in this track, not to forget the progressive influences which appear through the whole track. At some point an acoustic percussion line adds weirdness to the track (I wish it lasted longer).
Now the drifting starts; this track just puts you in the mood for dreaming, it is such a spacey soft Rock track that suddenly goes heavier and heavier. After two listens, I find myself hearing this track in my head wherever I go. Alan Azar's technique on guitar is simply perfect in every lick, every solo, and every riff. There is some classic Malmsteen influences in the track at the solo outro, and the track outro is such a great part, reminds me of a track by 'Muse' the band.
Sagittarius is probably the only track with some oriental blending, the track uses the basic Rock form but with "Darbuka / Derbakke" added to the drum beat. It is a weird derbake line, a blues walking beat. What makes Alan Azar's music shine comparing to other solo guitar players is that the others instruments in his music play a big part compared to other musician's music where they give the player a constant beat for him to jam to. I don't know why but the end of this track seems to reflect a dramatic ending.
Saraswati is an India Godess, the Goddess of knowledge, music, arts, technology. The name Sarasawti comes from "Sara" ="Flow" and "Wati" = "Women".
This track did not reflect a "hint" of "Indian" culture to me but it definitely reflected art and science with the keyboard effects and the complexity of the drum lines. The guitar lines later follow the stream of a river turning on tight turns and then moving in straight lines. Just after the track flow slow down there is a "hint" of Indian tabla.
The title track 'The Cosmologist' along with 'A Glimpse of Reality' are the only tracks with vocals. The vocalist is Brannon McKay from '3AM Highways', a band which Alan Azar recorded an album with back in the U.S.A.
It is a great contribution from an American artist. The intro simply sums our existence to a circle inside a circle; it is how the we currently understand the world thanks to the work of cosmologists, later scientists. Brannon's voice is distinguishable, closer to European voices like 'Jasper Steverlinck' than to American Hard Rock voices. He has a soft voice no matter how rough he wants it to sound. The music can be described as Hard Rock with some Metal parts.
Vocalist Sami Gabriel of "Route 66" has one of the best voices in Lebanon; his talent makes us proud to be Lebanese. Glimpse of Reality starts heavy with constant change of guitar riffs in a progressive structure, with some breakdowns from time to time. It's a skillful blend of Power Metal, Symphonic Metal and Progressive. This track moves from a heavy intro to a soft acoustic mid section that evolves into a very technical and progressive long end. Fans of Symphony X, this track is not to be missed!
This track sounds like a Rock Classic with mesmerizing guitar intro and a build up to a beautiful solo. The bluesy guitar keeps the snowflake dancing although it's warm. Alan Azar shows his skills in making and performing 80's Rock with modern fresh methods.
Sea Of Tranquility features a long electronic start alongwith guitar effects. The track stands out from the nine others as in it shows a musician's ability to leave the norms and try something different, which is an additional factor for success. There was one annoying thing in this track, and it is the continuous "clapping" effect from start to end.
The first 'True Inspiration' had great success and amazed everyone each and every time Alan performed it live. "True Inspiration II" is guaranteed to blow your mind with melodic guitar lines, expressive bass guitar work and the keyboard brilliance of Julien Azar. This track is a classic with one mission: hunt your brain cells, build a fortress and keep sending messages to your ears!
There is so much technique in what Alan plays here, everything is built to be perfect and I can already imagine 'True Inspiration III'.