After each GBOB heat, Lebmetal.com will be interviewing one member of the jury to talk about the event itself as well as their own current musical activities.
After Heat #1, our first interview was with Alan Azar.
What are the points on which you will be judging the bands?
First, what I don't judge on is the sound, because the band cannot control the sound quality and fine tune to their needs so that their music can be better presented. Having four bands on stage even makes it harder to tune everything to suit each.
I judge each musician in each band and then judge the groups based on their coherence and music arranging skills. The show on stage is important but not as important as the music, when the band is confident with what they have to present their attitude on stage would be best.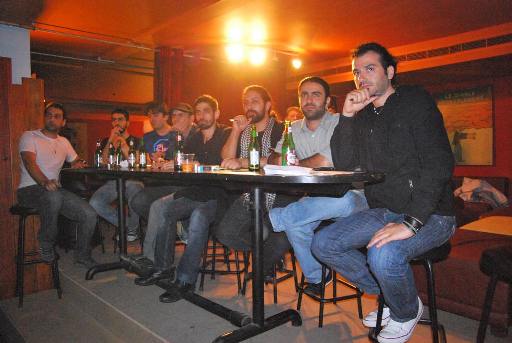 Concerning the performance of the bands tonight, what can you tell us about Oblivion, In Sanity, Veracity Hour and Mindstrom? Is there any advice you'd like to give to each band?
All bands have performed very well. Concerning Oblivion, I think they should focus more on the music before the "show". As for In Sanity their music needs to evolve; they were much excited on stage they should control their excitement but they have a good spirit. When it comes to MindStorm, they are young people and I admire their bravery. Finally for Veracity Hour, as I am a progressive metal fan myself and I know how they are working on stage and the effort they have done to produce their music, they had most of my points. When it comes to progressive music it is hard for it to sound clear without a well calibrated sound.
Talking about your current musical career, we have been waiting for your next album "The Cosmologist". How would you describe it? Are you looking for a label?
The album is done; in fact I received the mastered disc today and I am still waiting for the artwork to be finished to release the CD and it's soon to be ready. Meanwhile I have released a single entitled "Cosmic Dream" from the album; it's more of a soft track and I will soon be releasing another single from the album that falls into the progressive metal genre.
To describe the album I would say, it all comes from the heart: the tracks vary alot, every melody every beat came naturally reflecting a part of my life. I was recently very interested in astronomy and physics so the cosmologist being a person who asks a lot of questions and seeks answers in somehow unexpected places was my choice for a title and a topic. The album contains one song, the title track "The Cosmologist" sung by "Brannon Mkain" (3 am Highways) and the rest is instrumental. I am a fan of Joe Satriani but I don't see much influence from him in my music but I leave that to the fans to decide. This album is meant to be carefully designed for the listeners, different from my first album "Defective Harmony" which was more like a collection of tracks put together. As for labels, yes I am looking for a Label.